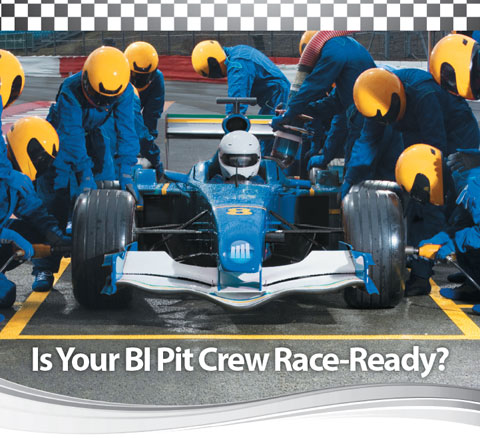 Why the BI Pit Crew?
In auto racing, the unsung heroes are the members of the Pit Crew who maintain and manage the race car in real time. They respond quickly and efficiently to all challenges ‑ both expected and unexpected.

The "Pit Crew" of your BI deployment includes the skilled technologists and team leaders who maintain and manage the BI platform. Like their auto racing counterparts, the BI Pit Crew responds with speed and efficiency to manage many challenges. They keep the business intelligence platform running effectively to serve the information needs of the organization, making it the driving force behind innovation, operational efficiency, and return on investment. They, too, are often unsung heroes.
Well Managed Migration, Well Managed BI
Well managed migration starts with well managed BI. The first priorities in planning your migration should be to gain a deep understanding of your current system, and to rationalize the structure, security, and content of that system before migrating to the new system.


APOS Well Managed BI solutions and Migration Accelerator products give your BI Pit Crew the specialized tools they need to automate and simplify the many labor-intensive, time-intensive, and potentially error prone tasks they face daily.